Up, an independent and international Group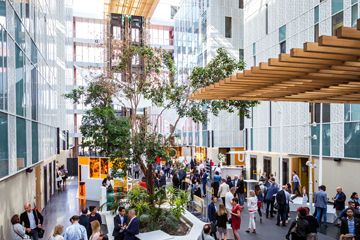 Up is an international cooperative group, whose independence ensures balanced relationships and trust among its stakeholders.
At Up, commitment is at the core of what we do, but also at the heart of who we are.
Since 1964, our cooperative model has always embodied this state of mind. It is a model within which everyone works together on a joint project. It is an open-field social experiment which demonstrates the relevance of commitment and of being committed on a daily basis; where each of the 2,951 employees is involved in the overall direction and success of the Group, and thus plays an active part in Up's growing influence in 4 continents.
Our cooperative DNA ensures a balanced and trustworthy relationship with and between our stakeholders: beneficiaries, employers, merchants, public authorities, employees... for whom we aspire to be the most innovative and meaningful actor.
More fair and sustainable, our development naturally reconciles economic, social and environmental dimensions.
"Today, Up consists of thousands of employees, working across 4 continents and all pursuing the same goal.
We are committed to social progress, we believe in collective fulfilment and working to make the interests of every individual converge, for a fairer society.To make every day better."
Creating virtuous connections
We participate in facilitating daily life by creating virtuous connections between organizations, individuals and regions.
Every day, we there for more than 26 million people around the world, providing them with solutions that connect individuals, businesses and regions, and create the conditions for them to engage for a more sustainable society.
These management, communication and exchange solutions improve individuals' purchasing power and well-being, while offering freedom of choice and usage that stimulates their power to act.
Efficient and socially fair and balanced daily services that fight against exclusion and improve living conditions.
Inventing daily life for tomorrow
At a time when digital technology enables rapid and large-scale co-constructions, collaborating to enable the rapid emergence of new, simple and intuitive solutions is a fundamental condition for success.
Attentive to societal changes, we have open exploratory talks with all our clients, beneficiaries, partners and employees to bring new ideas to the fore and co-develop useful solutions, that have meaning and value for all.
In order to achieve this, we choose to place technology in its proper place: in the service of uses.
Up group has the ambition of becoming a genuine ideas incubator by associating its external partners and its employees with its innovation approach to build solutions with them that make every day better.
Find your inspiration on OUR BLOG