Employment and disability: the extraordinary example of Le Reflet restaurant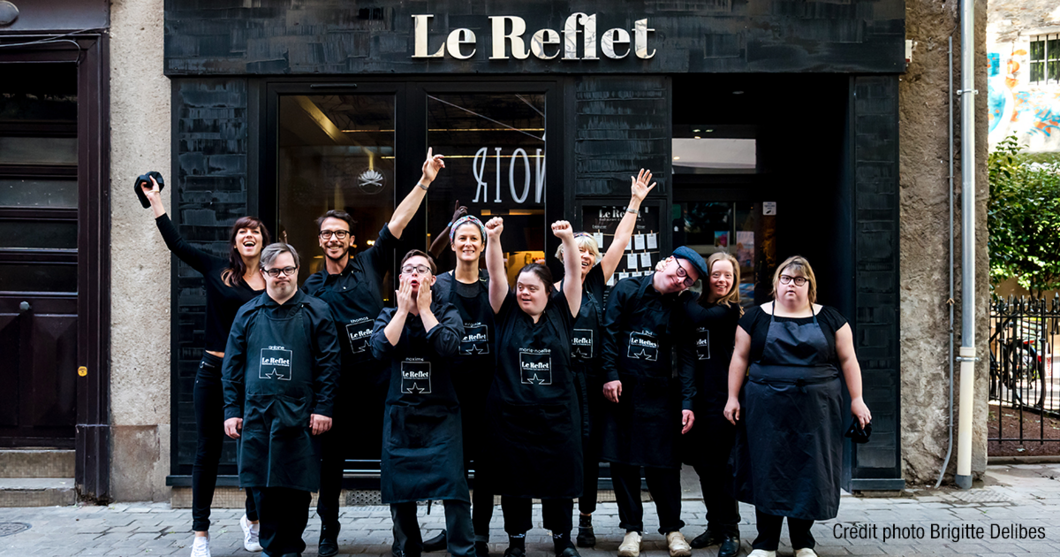 In western France, in the city of Nantes, a restaurant has taken the challenge of employing people with Down's Syndrome (also known as Trimosy 21) in both dining room and kitchen. The place is always full and such initiative is spreading.
From outside, nothing distinguishes Le Reflet from the nearby shops of this downtown pedestrian street of Nantes. Once you pass the door of this sober and cosy restaurant, you will understand why it is "extraordinary". Here, most of the team lives with Down's Syndrome: all have a permanent contract.
"The objective of the project was twofold, explains Flore Lelièvre, creator of Le Reflet: first to create bonds between people with this disability and the "ordinary" environment, and second to prove that it is possible to get young people with Down's Syndrome work on permanent contracts, like any other person." The 29-year-old woman, whose brother is affected by Down's Syndrome, has known in the past "rude eyesand remarks". The idea of Le Reflet originated during her studies when she was preparing her final project in interior design: "I wanted to prove that it is possible for them to work in an ordinary environment, outside a specialized structure. I had to do a lot of research, find examples abroad..."

Adapted plates and order taking

The student presented a fully adapted project, with ergonomic plates - financed by the Up Foundation – and an order taking system with pre-filled order-papers to be stamped by the customers so that the waiters have less to memorize... An immediate success for Flore in front of the examination board, but also for the restaurant project, which quickly gathered about fifteen people. "I was told: You want to show that they can work, so what about starting a business outright?", remembers Flore Lelièvre. A company (Simplified Joint Stock Company) was created, in addition to the Trinôme 44 association. The extraordinary success story was born.

One year later, the first fundraising is a success, the storefront is found. All that remains is to set up the restaurant team. "Our criteria were motivation and the desire to work in the catering business," says Flore Lelièvre. The creators of the project recruit supervisors with the help of a Human Resources department attached to the Chamber of Trades, and seven employees with Down Syndrome, by word of mouth and networks. After training in cooking and service, Le Reflet staff could welcome its first customers.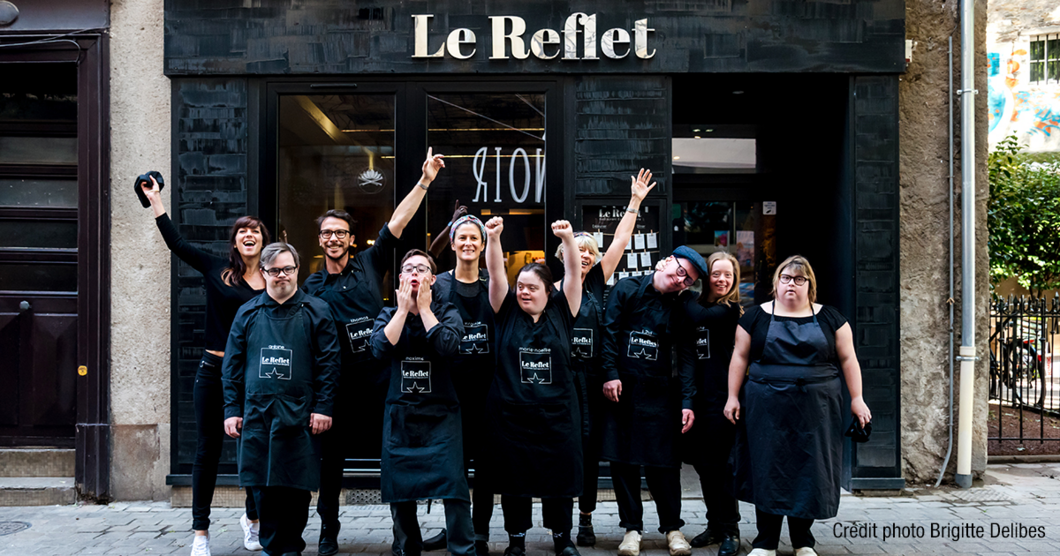 « People come to eat well »
Directly from the opening, at the end of 2016, the success is met and has not stopped since. "Succulent cuisine", "warm atmosphere": on the rating sites, comments barely mention the particularity of waiters and cooks. "It was the success's key, says Flore Lelièvre. People come to eat well, not to do a good deed."
A second Le Reflet opened in Paris in October 2019, and the initiative emulates. The Le Reflet team receives at least one solicitation per week from people who wish to launch the same type of project. Flore is now considering proposing support to companies for the employment of people with disabilities. "Le Reflet will remain a showcase to prove companies that not only it is possible nor that difficult to adapt and that it also is financially sustainable!"
For employees, this experience has changed their lives. "A door opened for them, says Flore Lelièvre, this job values them daily, it's very motivating." And it opens new perspectives, and desires like having their own apartment and obtaining more autonomy.
And abroad?
The Le Reflet project is quite inspired by La Locandiera dei Girasoli: a cooperative pizzeria that has been employing people with Down's Syndrome for nearly twenty years in Rome, Italy. Since then, initiatives of this kind have multiplied throughout the world - Le Reflet has compiled some of them in a book: Extraordinary Restaurants - such as the coffee shop Hugs n' Mugs in the United States or the caterer Los Perejiles in Argentina.