Trinôme 44, a special restaurant for « extraordinary » people.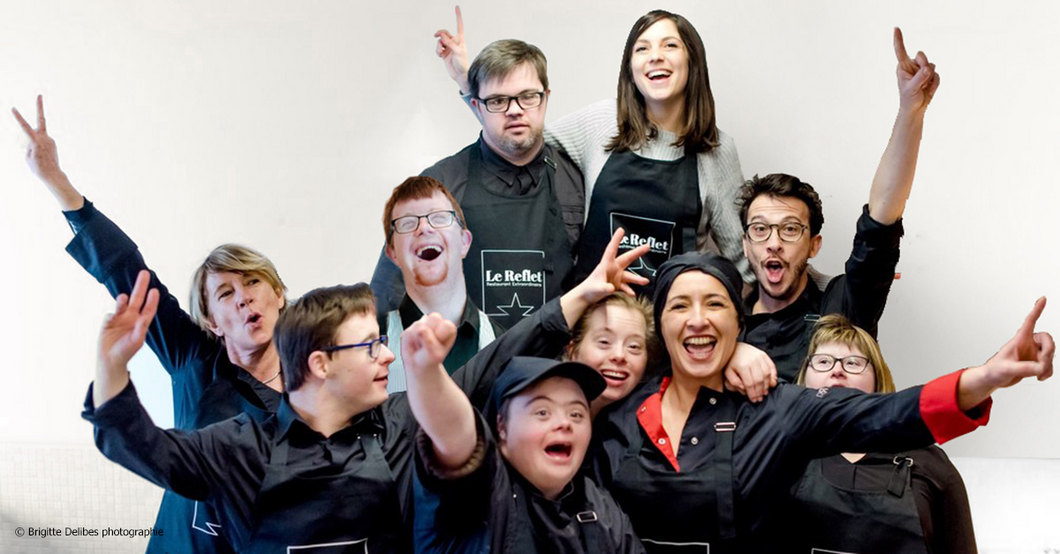 The not-for-profit association Trinôme 44 was created in 2014 with the aim of developing tools for the professional and social integration of people with physical and/or mental disabilities, in professional contexts that are adapted to their circumstance.
The objective pursued by the association Trinôme 44 is to enable a mix of « classic » workers and disabled workers without this being limited to establishments or services specializing in work for the disabled. The association focuses on projects fostering inclusion through work. Its first pilot project took shape last December with the opening of the restaurant « Le Reflet » in the city of Nantes. This establishment is special in that it employs six cooks and servers with Down syndrome. Among other things, the association implemented its first creation: ergonomic plates that are especially designed to be more easily transported by people with disabilities who work is to cook and serve lunch and dinner to customers. The objective is to enable a professional mix of « classic» workers and disabled workers.
Changing the way we see things
Half of these employees, who are called « extra-ordinary » by their supervisors, had never had the opportunity to work, and the other half had no experience in the catering industry. Today, with 36 seats available for lunch and dinner and 4 months after opening, the restaurant is often full... In fact, it is better to make reservations if you want to have lunch or dinner there! This experience is a beautiful demonstration of the inclusion of people with disabilities through a place where people can meet and share in a friendly atmosphere. It is also an ideal vehicle for changing the way people see them, a way of impacting people's minds by showing the skills of these employees who, thanks to this business model, are able to become independent, can flourish and gain the capacity to take action. At the restaurant « Le Reflet » in Nantes, the team consists of 4 ordinary employees and 6 « extra-ordinary » employees!
3 questions to... Flore Lelièvre, President of Trinôme 44
How does the association work?
The association has some 50 members and a steering committee of 3. It was set up to develop tools and locations that promote the integration of people with disabilities. Active members meet quarterly.
What kinds of things do you do?
The pilot project of Trinôme 44 is the restaurant « Le Reflet », where most of the team members are employees with Down syndrome. In this context, the association has also provided resources that foster integration and independence for people with disabilities in their work stations, such as ergonomic plates, setting up a system for taking orders that is adapted to people who have difficulty reading, writing or memorizing. At present, 4 months after opening, the main role of the association Trinôme 44 is to support the restaurant and ensure its sustainability (communication, fundraising, developing in-house tools...).
What does the support of the Up Group Foundation bring you?
The Up Foundation enabled us to finance the development of our range of ergonomic plates (design, prototyping), and to produce an initial series of plates for the restaurant « Le Reflet ».