In Belgium, Up has ended queues!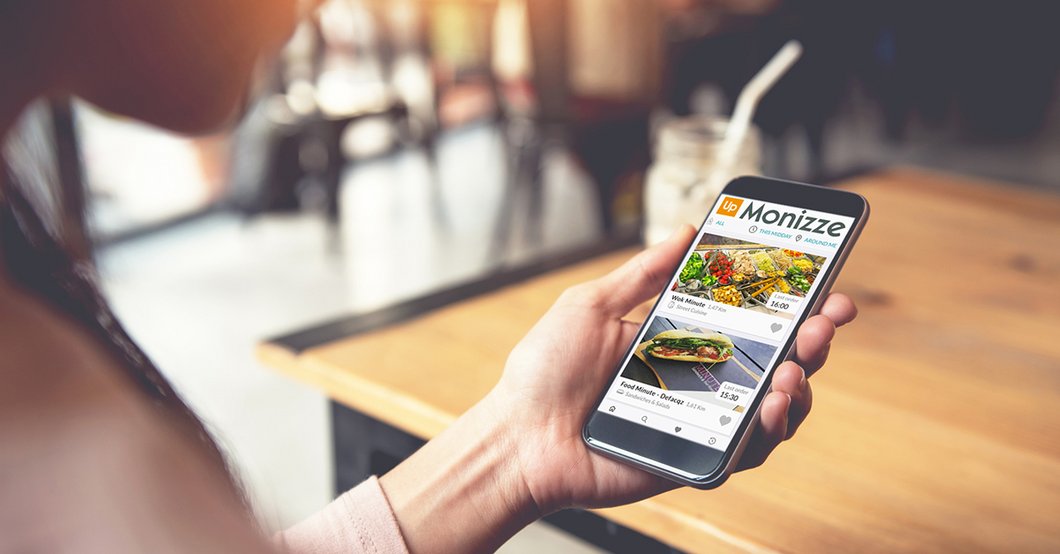 Monizze, Up group's Belgian entity, joins the SKIP-Q and one2three « take away » order platforms. By ordering and paying with their Monizze card, employees save time during their lunch break.
It's easy: your order your meal in 2.0, you pay on line with your electronic meal vouchers, you go pick up your meal, and you skip waiting in line. This will not only make life easier for consumers, it will also boost retailer business.
A lunch break is often no more than exactly fifteen minutes! And the reason for that is that we spend more time standing in line at the sandwich shop than eating peacefully or sharing a meal with co-workers. This situation is about to become a thing of the past thanks to 2.0 shopping solutions. At the beginning of 2018, Monizze, issuer of meal vouchers, eco-vouchers and electronic gift certificates, expanded its range of services. Thanks to its electronic meal cards, users can order and pay for their meals online using the SKIP-Q and one2three apps – among other platforms that will soon be active – at their favorite sandwich shop, and pick up their meal just moments later without standing in line. Other platforms will soon be enabled, such as for instance Localimus, in just a few days.
Everyone wins, both the consumer and the merchant. Users gain in quality of life, because they no longer need to stand in line, and then swallow their sandwich in the little time they have left. As for the retailer side, many restaurateurs say they are very pleased. They are seeing new customers who are attracted by take-away orders that are prepaid using meal vouchers. Others even say that former clients, who had stopped coming to their establishment due to lack of time, are now coming back thanks to how easy it is to use this new service!
With partnering food service establishments, the benefits for consumers are as follows:
Saving time: the order is ready when you come pick it up, while other customers are waiting for their turn. You can « skip the line » (as in « SKIP-Q »);
Secure and easy payment: no need to walk around with cash, the meal has already been paid;
The service is free and friendly: no extra cost;
Customized service: you can compose your sandwich as you wish, online, just like if you were there in person
As for Restaurateurs, they are mainly happy about the following:
The increase in sales and turnover: they are reaching out to more customers, and this differentiates them from competitors who are not using this take-away method;
Increased visibility: the establishment communicates through apps and platforms with its own logo and its own graphic charter, among other branding components;
Gain in time and efficiency: order management is improved and lunchtime rushes are better managed.
Lastly, the other big winners of the prepaid purchase system are retailers who cannot invest in a classic payment terminal because of the cost involved. Now everything is paid for beforehand thanks to the Monizze solution.
With this innovation, Up is once again empowering employees to have a good lunch, more well-being in their everyday life!